Cast Aluminium Junction Boxes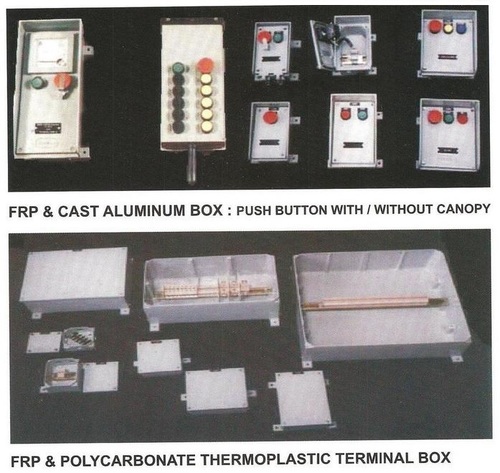 Cast Aluminium Junction Boxes
Price And Quantity
200 INR

190.00 - 200.00 INR
Product Description
Industrial wp junction boxes in FRP -

Our company manufactures a quality range of Electric FRP and Aluminum IP65 Junction Boxes

Which are acknowledged for their better servicelife and high tensile strength. These motor covers are known for features likedurability, efficiency and corrosion resistance.
These FRP boxes are made from very highquality raw material which ensures high durability at its user end. These arein good demand in the market due to high quality and durability.
is a container for electrical connections,usually intended to conceal them from sight and deter tampering. A small metalor plastic and Aluminum LM-6 junction box may form part of an electricalconduit wiring system in a building, or may be buried in the plaster of a wall,concealed behind an access panel or cast into concrete with only the lid showing.It sometimes includes terminals for joining wires. A similar container used forjoining wires to electrical switches or sockets is called a pattress
We are indulged in providing with a broad array of Electric FRP and Aluminum IP65 Junction Boxes. The offered reinforced plastics boxes are designed by our practiced professionals atpar with the market norms utilizing advanced techniques and best grade material.

The offered covers have high demand in the industry due to their features like superior strength, sturdy construction, dimensional accuracy, perfect finish, corrosion resistance and durability.

Further, these excellent quality Electric FRP and Aluminum IP65 Junction Boxes are available with us in various specifications as per the needs of clients.
Junction boxes form an integral part of a circuit protection system wherecircuit integrity has to be provided, as for emergency lighting or emergency power lines, or the wiring between a nuclear reactor and a control room. In such an installation, the fireproofing around the incoming or outgoing cables must also be extended to cover the junction box to prevent short circuits inside the box during an accidental fire.

looking forward for your valued enquiry and with sincere regards,
Note : ( MOC ) Material of Construction
| | | |
| --- | --- | --- |
| Description | Size in mm | MOC |
| Round j. B. 100mm overall dia, suitable for 30amp 4 way terminal. | 100 mm dia | c. A |
| Junction box suitable for 30 amp 4 way or 15amp 6 way terminal block. | 100x100x55 | c. A |
| Junction box suitable for 8 nos 2. 5 sq. Mm elmex type terminals. | 130x100x75 | c. A |
| Junction box suitable for 10 nos 2. 5 sq. Mm elmex type terminals. | 140x120x75 | c. A |
| Junction box suitable for 15 nos 2. 5 sq. Mm elmex type terminals. | 210x125x75 | c. A |
| Junction box suitable for 15 nos 2. 5 sq. Mm elmex type terminals. | 160x160x110 | c. A |
| Junction box suitable for 20 nos 2. 5 sq. Mm elmex type terminals. | 155x210x110 | c. A |
| Junction box suitable for 20 nos 2. 5 sq. Mm elmex type terminals. | 155x210x75 | c. A |
| Junction box with hinge suitable for 30 nos 2. 5 sq. Mm elmex type terminals. | 195x275x115 | c. A |
| Junction box with hinge suitable for 30 nos 2. 5 sq. Mm elmex type terminals. | 195x275x165 | c. A |
| Junction box suitable for 36 nos 2. 5 elmex type terminals. | 260x115x110 | c. A |
| Junction box suitable for 48 nos 2. 5 sq. Mm elmex type terminals. | 250x400x150 | c. A |
| Junction box suitable for 50 nos 2. 5 sq. Mm elmex type terminals. | 465x465x165 | c. A |
Contact Us
Unit No. 28/AF, Ist Floor, New Empire Industrial Estate, Ram Krishana Mandir Lane, J.B. Nagar, Mumbai, Maharashtra, 400059, India
Phone :+918037402166