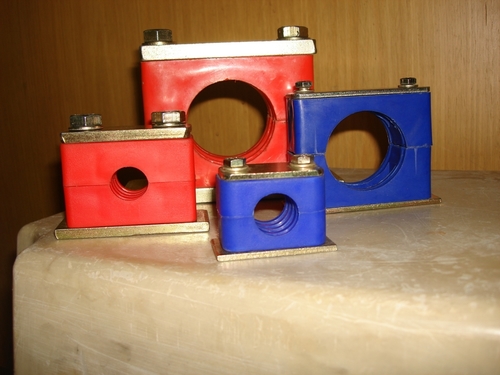 Pipe Tube Cable Clamp
Product Description
Dear Madam Sir
Greetings,


Â
·        We are backed by a team of highly trained professionals forsuccessfully manufacturing,exporting, distributing, trading & supplying of a wide assortment of PP /  Nylon PipeTube Cable Clamps,
Â
Types of material :-


1Â Â Â Â Â PVCÂ / PP Plastic Material
2     Nylon 6 molded F.R.P. – FRP - [Glass Fiber Filled Molded ]
3Â Â Â Â Die-Casted Aluminum [ Grade:- LM-6 ]Â
Â
Backed by a skilled teamof professionals, we are offering supreme quality Pipe Tube Cable Clamps. Ideal for supporting Single Core PVC/ HRPVC, the whole range oftrefoil clamps are manufactured under the direction of our quality controllersutilizing the top quality material and modern technology. Also, these trefoilclamps are provided in several specifications as per the needs of customers.Our trefoil clamps are purchased by the customers at nominal rates.
Â
For other extra TCs charges will be extra at actual asper third party Lab Â

Features:
Precise dimensions

Sturdiness

Optimum design
ELECTRICALPROPERTIES :-
·        Â·        are  Protection_of  power  and  control  cable  from  the   Lightning discharges  andEstablishment of easy cable circulation paths.   Voltages areinduced in the sheath of cables running in parallel which result incirculating currents flowing in the sheaths. The distances between single corecables running in parallel determine the voltages induced. With single corecables in Single formation (touching each other) the distances between thecables are minimum and thus the voltages induced are minimized andhence the circulating currents. The circulating currents cause localized heating. Â
·        Â·         areused for high voltage single core cables where the current rating is high and 3core cables are not available.Â


APPLICATIONÂ
Â
·        Trefoil Clamps   are   keptin Single formation Â
Â
Single Pipe Tube Cable Clamp
Â
With commitment to innovation and quality, weare involved in offering Clamp. It is manufactured by our employees usingsuperior-grade metals incorporating highly advanced technology. Offered clampis available in numerous dimensions, designs and sizes so that patrons canavail it from us as per their demands. Furthermore, we stringently check thisclamp to remove its flawlessness. Some of the special attributes of our Clampare described as follows:
Â
looking forward for your valued enquiry and withsincere regards, Â
Contact Us
Unit No. 28/AF, Ist Floor, New Empire Industrial Estate, Ram Krishana Mandir Lane, J.B. Nagar, Andheri (E), Mumbai, Maharashtra, 400059, India
Phone :+918037402166